From the Multnomah Lawyer: Christine Sargent: YLS Member Spotlight
Holly Hayman, YLS President
Tuesday, October 22, 2019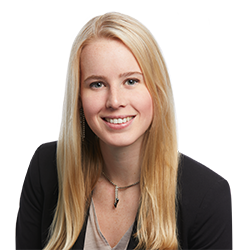 Christine Sargent did not establish her burgeoning legal career in Portland by accident. When she arrived in Portland, after moving all over the country during her childhood, Christine knew it was the place she wanted to call home. Although Christine describes herself as an introvert, she is not daunted by a challenge and reached out to others to build a community in Portland. As a recent law school graduate, Christine exercised her networking skills and began participating with the YLS.

Christine's family moved frequently during her childhood due to her father's service in the US Marines. As a result, she developed skills for creating meaningful connections with others and community building. Reaching out to new people can be intimidating, but Christine consciously put herself in uncomfortable circumstances in order to establish relationships. She exercised these skills while attending Portland State University as an undergraduate, and was impressed by the result. She took advantage of a PSU program called Explore the Law, which connected her to female attorney mentors Lissa Kaufman and Andrea Thompson. Lissa and Andrea provided examples of successful women attorneys, and helped convince Christine that she could use her community building skills to establish a successful legal career for herself in Portland. After earning a degree from PSU in 2014, she enrolled in Lewis & Clark Law School and graduated in 2017. While in law school, she externed for Judge Stacie Beckerman, which cemented her desire to practice law in Portland. Christine continued building a strong professional community by relying on her ability to forge new relationships with powerful mentors who, in her words, ultimately played (and continue to play) a critical role in helping her achieve her career goals.

As a new lawyer, Christine knew that she would need to exercise her networking skills once again. She attended a few MBA YLS events and recognized that YLS involvement was a great way to continue building a robust professional community. The YLS provided opportunities to network at social events and even greater involvement as a committee member. Christine began attending YLS events regularly. While she admits she was out of her comfort zone at the first couple of events, she knew that continued participation would generate positive results. Indeed, before the end of her first year, she was familiar with YLS members and was encouraged to get more involved. She joined the YLS CLE Committee during her first year of practice, and after that two-year term ended, decided to serve another term on the YLS Membership Committee. For Christine, the benefits of YLS involvement became evident so quickly they almost surprised her. Christine explained, "before I realized it, I had a network of friends and professionals that I trusted and relied upon." Her YLS community provided resources for navigating career growth and developing professionalism.

Given Christine's fearless approach to networking, it should be no surprise that she also loves to travel. While in high school she traveled to Oman and was imbued with respect and appreciation for diverse cultures. She and her husband travel often to Greece to visit his family. They also recently traveled to Islay, Scotland, to celebrate their shared love of scotch. Although she loves to travel, her return to Portland at the end of every trip is the sweetest moment. "The first breath of air and the first drink of Portland water always make me so grateful to call this place home."

Christine is an associate with Littler Mendelson, where she practices employment law. When she is not working, being a rock star YLS member, or traveling, you can find Christine attending comedy shows - one of her favorites is the CEJ Laf-Off – or watching the Blazers. She also is an avid tennis player and dedicated NYT crossword puzzler.

---
View All Articles