The Honorable Amy Baggio: Multnomah County Circuit Court Judge
Cynthia Newton, Court Liaison Committee
Thursday, January 16, 2020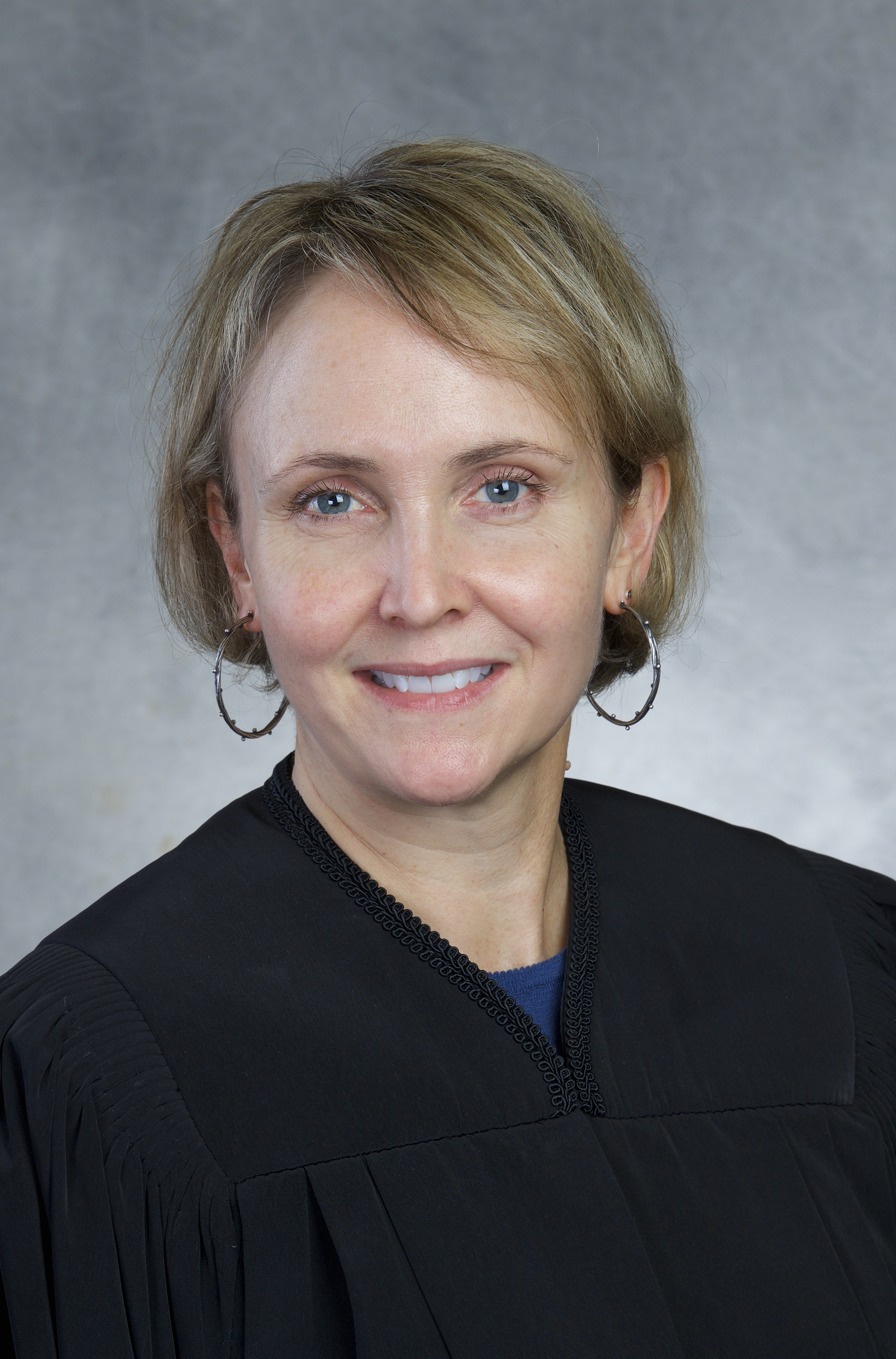 In March 2019, Governor Kate Brown appointed Amy M. Baggio to the Multnomah County Circuit Court. Baggio, and Heidi Moawad, filled vacancies created by the retirements of Judges Marilyn E. Litzenberger and John A. Wittmayer.

Amy Baggio was born in Pittsburgh, Pennsylvania, into what she describes as "incredibly lucky" circumstances. She was the middle child of three in a "rather strict Catholic family." Her father worked in human resources with a large company and her mother was active in their neighborhood schools, church, and a variety of charitable organizations, including Ronald McDonald House Charities and Meals on Wheels. Judge Baggio graduated high school in Alabama and went on to Wake Forest University where she graduated in 1995, cum laude, with a BA in Speech Communication and a minor in French. After graduation, she stayed in Winston- Salem and worked for a marketing and advertising firm for three years. There, she met and worked alongside local elected officials and attorneys hired to advance several campaigns. Seeing their resolve to impact social issues inspired her to apply to law school.

Judge Baggio went to Lewis & Clark Law School for its environmental law program. However, by the time she graduated law school, her focus had shifted: a clerkship at the Federal Public Defender's (FPD's) office in Portland allowed her to watch amazing lawyers and staff work tirelessly in their representation of indigent criminal defendants. This experience convinced her that she, too, wanted to be a criminal defense lawyer and work with underserved citizens in our community. After law school she joined the Metropolitan Public Defender's (MPD) office in Portland. There, she began to develop her particular style and approach to criminal law practice. She saw her role as broader than the often-challenging work of spotting legal issues and guiding her clients through the criminal charges they faced. She went beyond, engaging with her clients and their families to achieve a result that allowed them the opportunity to address underlying issues that led to their involvement in the criminal justice system.

After one year at the MPD, Judge Baggio returned to the FPD's office where she worked from 2002 to 2013 for then-Federal Public Defender Steve Wax. While there, she represented hundreds of clients. One of her clients, who she represented along with Assistant Federal Public Defender Ruben L. Iniquez, was Nazar Chaman Gul, imprisoned at Guantanamo Bay Prison since 2003. Gul had worked as a guard for the Karzai government in the town of Gardez. One night, as he slept in a house belonging to a man rumored to be in cahoots with the Taliban, Gul was swept up by US soldiers under the cover of darkness and taken to Guantanamo via the Bagram Air Base. In 2008, the US Supreme Court issued its decision in Boumediene v. Bush, holding that held detainees at Guantanamo had a right to file petitions for habeas corpus. Mr. Gul filed a pro se petition for habeas review of his detention at the US military base in Cuba. Iniguez and Baggio were then appointed to represent Gul in his case filed in the DC District Court.

Iniguez and Baggio and their team investigated the government's allegations against Gul and learned the details of his life and the circumstances under which he was in Gardez and captured. Eventually, they came to understand that he had likely been confused for Chaman Gul, a known warlord, who was also imprisoned at Guantanamo. In 2007, the government allowed Mr. Gul to leave Guantanamo. Afterwards, Baggio's co-counsel Iniguez told the press, "Every single, minor detail he told us was corroborated. They (US officials) never took the time or effort to find it out... All it would have taken was a phone call." Judge Baggio received awards from the ACLU of Oregon and American Jewish Committee for her work representing Gul. The work had lifelong impacts on her as a person and as a lawyer. These articles describe the exhaustive investigative and legal work necessary to secure Nazar Gul's release: www.bit.ly/NazarGul1 and www.bit.ly/NazarGul2.

Judge Baggio left the FPD's office in 2013, to start a solo criminal defense practice. Longtime Portland criminal defense attorney Larry Matasar rented her an office in the American Bank Building, where she initially worked in a suite alongside Matasar, Dennis Balske, Stephen Brischetto, James Lange, Richard Maizels, and author Phillip Margolin, all of whom provided a wide array of expertise and a collegial environment. Mr. Matasar served as a mentor in private practice and was her sounding board for ideas. She continued to represent a wide variety of clients, and she remained committed to not only to defending her clients against criminal charges but continuing to advocate for them in such a way as to provide support should they be ready to move beyond their pasts and on to more stable lives. She is inspired by the cards and letters she receives from former clients who have found the strength and courage to overcome some of life's most seemingly insurmountable obstacles. And, while she had the opportunity to be involved in high profile cases, such as the Malheur occupation trial where she represented Joseph O'Shaughnessy, Judge Baggio talks most passionately about the individuals who overcame experiences of abuse, neglect, and addiction to become inspirations to everyone whose lives they touch.

And, as mentioned above, Judge Baggio carried into her private practice principles she embraced from her experience representing Nazar Gul. His case reinforced her belief that the rule of law – including the fundamental rights guaranteed by our Constitution - are essential in the functioning of our justice system and in maintaining our very democracy. The government gains no benefit from failing to abide by our constitutional guarantees; to the contrary, when the government fails to follow its own laws, it sends a message to the citizenry that they need not respect the law either.

Judge Baggio's core belief in the importance of the rule of law and the protection of basic rights grounds her work as a judge. Judge Baggio strives to create, on a daily basis, a calm environment where she resolves legal disputes in an understandable and respectful manner. While legal cases almost always result in one side prevailing over the other, Judge Baggio believes it of the utmost importance for the litigants appearing before her to leave the courthouse feeling that she listened carefully to them and that while they may not agree with her decision, they understand why she ruled the way that she did.

Judge Baggio appreciates and expects civility and preparedness from those who appear before her. Driven by the passion to understand the law and reach the right result, she reads everything before hearing cases. To allow time for her careful review she encourages attorneys to submit briefings as early as possible.

Judge Baggio took the bench in April 2019 as a general assignment judge and hears both criminal and civil matters. She has already conducted many criminal trials and recently conducted her first civil trial in an employment discrimination case. She describes civil law as fascinating and looks forward to being assigned more civil trials and motions in the future.

---
View All Articles